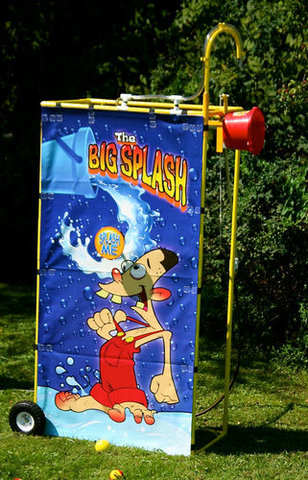 The Big Splash
Pricing
All Day : up to 8 hours : Contact office for special event hours 813-481-8994
Overnight : Only 20% more : Pickup is the next day 7am - 12 pm
Additional Day : 1/2 Price : Pickup is the next day 6- 8 pm
The Big Splash
Sharp Looking. Its vivid, colorful graphics draw lots of attention.
Reliable and Simple to Operate.
It uses a standard garden hose.

Fun for Everyone. The Big Splash creates a fun event which is inclusive of all, including the disabled, seniors, children, larger people, etc. Anyone who can sit under the bucket can participate.
A Perfect Fund-Raiser. Pastors, teachers, politicians, police officers, fire fighters, coaches -- just about anyone is willing to get wet for a good cause. Just as our Easy Dunker dunk tank has raised millions for various charities over the years, the Big Splash is destined to do the same.